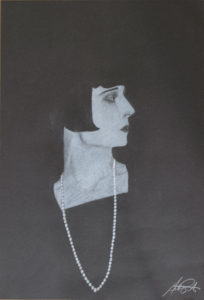 On my 15th Birthday I received a book from my siblings about famous Hollywood actors and actresses. One of the first pages was a black and white photograph of the silent movie star Louise Brooks. This very minute I looked at the photograph I knew I had to draw it, as it is. Her hair and dress blending with the black background. I was in awe.
This was the beginning of everything that followed.
I have always loved black and white photographs and the black and white classic Hollywood movies. To convey a message with this seemingly limited palette of – yes, let's call them – colours: black, white and all the shades of greys. It was magical to me and a mystery. The interplay between light and shadows and contrasts fascinated me and I wanted to explore this mythical real of achromatism.